עברית בהמשך
Dear friends, the Republican and Democratic National Conventions are less than one month away. This is a strategic opportunity, then, to introduce new ways of thinking instead of the tired old "two-state solution". See here http://forward.com/news/343116/are-republicans-facing-a-nasty-platform-battle-of-their-own-over-israel/? and here: http://www.haaretz.com/israel-news/.premium-1.726779
Therefore, please can you promptly read the attached information booklet about ALTERNATIVES to the "2-state solution".
The attached booklet compiles some very interesting views about what can be done that would better, both for Israel and for world peace, than establishing a new terrorist state just a bike-ride away from Tel-Aviv, Jerusalem and Ben-Gurion airport.
The attached booklet is in Hebrew and we URGENTLY need
(a ) your comments and suggestions – and
(b ) a VOLUNTEER TRANSLATOR to translate from Hebrew to English – simply send your name, email address and telephone number to mattot.arim@gmail.com.
Thank you very much indeed.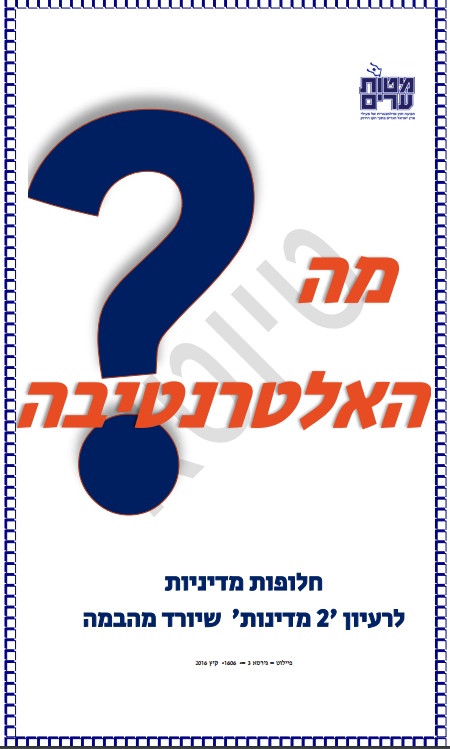 ארה"ב: הכינוסים של המפלגה הדמוקרטית ושל והמפלגה הרפובליקנית – ייערכו כבר בחודש הקרוב (בחודש יולי).
כזכור עד עתה, השיח בארה"ב בתקופת אובמה היה בעצם מונולוג: "צריך להקים מדינה פלשתינית!"
אך כיום — הקולות מהוססים, אפילו בשמאל. לכן, זה הזמן להתחיל לעסוק בחלופות – מה ניתן לעשות במקום הקמת מדינה פלשתינית?
מצ"ב טיוטת חוברת שעוסקת בדיוק בזה: באלטרנטיבות להקמת מדינה פלשתינית.
מסתבר שיש הרבה חלופות אפשריות, אבל אלה אינן מרוכזות במקום אחד.
א. אנא לקרוא את המצ"ב בהקדם
ב. אנא העבירו רשמים ותיקונים לטיוטא המצ"ב
ג. חשוב – דרוש/ה בדחיפות מתורגמן/מתורגמנית מתנדב/ת מעברית לאנגלית – לפנות אלינו באימייל להלן ולציין שם, כתובת מייל וטלפון – הרבה תודה ממטות ערים