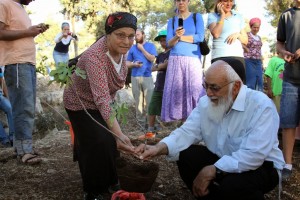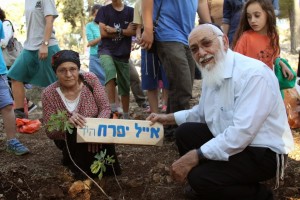 בתמונות – הסבא והסבתא של החטוף אייל יפרח ז"ל, נוטעים עץ לזכרו בגבעה החדשה, "עוז וגאון" בגוש עציון.
הגבעה הוקמה ע"י נשים בירוק בראשות יהודית קצובר ונשים בירוק- כל הכבוד. נציגי מטות ערים כבר ביקרו אותם במקום כדי לברך אותם ולתרום למאמץ החשוב שלהן.
בני נוער מבת-ים, פתח תקוה, גבעת שמואל ועוד סייעו לנוער גוש עציון המקסימים בסיקול אבנים, צביעת שולחנות וספסלים ועוד.
הנוכחות בגבעה חשובה מאד. גם בשבת.
הכנות לשבת בגבעה בעיצומן. להרשמה אנא התקשרו ל050-5500834. התוכנית המפורטת תשלח בע"ה מחר.
ביום שלישי הקרוב תתקיים בגבעה בע"ה ברית מילה! פרטים בקרוב.
נשים בירוק: www.womeningreen.org
יהודית קצובר 050-7161818 נדיה מטר 050-5500834
המדרשה הציונית:
אפרים גולובב 054-9769257 מיכל לוקימסון 054-7679043 חיה טל 052-6028499
The grandparents of the kidnapped youngster Eyal Yifrach are seen in Gershon Ellinson's photos planting a tree in OZ VEGAON, a new Jewish location in the Gush Etzion hills, in his memory.
Many good folks from Ramat Gan, Rehovot, Bat-Yam, Petach Tikva, Givat Shmuel and other locations have come up to just be there, hear lectures and help the great young people from Gush Etzion with weeding, building paths, planting trees, and so forth.
Jewish presence is crucial – including on Shabat. For example, tonite, Thursday, Lehi fighter Ezra Yachin will lecture at 8:30pm, in Hebrew, and he is GREAT.
An account by a family who spent Shabbat on the hill last week: http://aineretzacheret.blogspot.co.il/
This coming Tuesday a first brit will be held at Oz veGaon – mazal tov to the new parents! You can have your brit there too!
Particulars: Yehudit 050-7161818 Nadia 050-5500834
Zionist Midrasha: Efraim 054-9769257 Chaya 052-6028499
Friday transportation to Givat Oz veGaon from Jerusalem – call 052-3294194.
---
| | |
| --- | --- |
| | This email is free from viruses and malware because avast! Antivirus protection is active. |